TECNOSTAMP, due to its production and sector diversification, uses a very wide range of thermoplastic polymers.
The selection of polymers constitutes a crucial phase in the development of the project and in achieving the result. TECNOSTAMP carries it out with technical-scientific criteria, thanks to its in-depth know-how and partnership with its suppliers.
The polymers are selected with the application of the most suitable formulation for the desired purpose, from the polymer matrix to specific reinforcements, fillers and functional additives (including spheres, short and long glass fibers, mineral fillers, molybdenum disulfide, Kevlar, silicone, PTFE, carbon fibers, stainless steel fibers, graphite, magnets, phosphorus, antistatic, anti-UV, anti-bacterial, self-extinguishing).
Based on specific technical requirements, we are able to address a wide range of preliminary project requirements: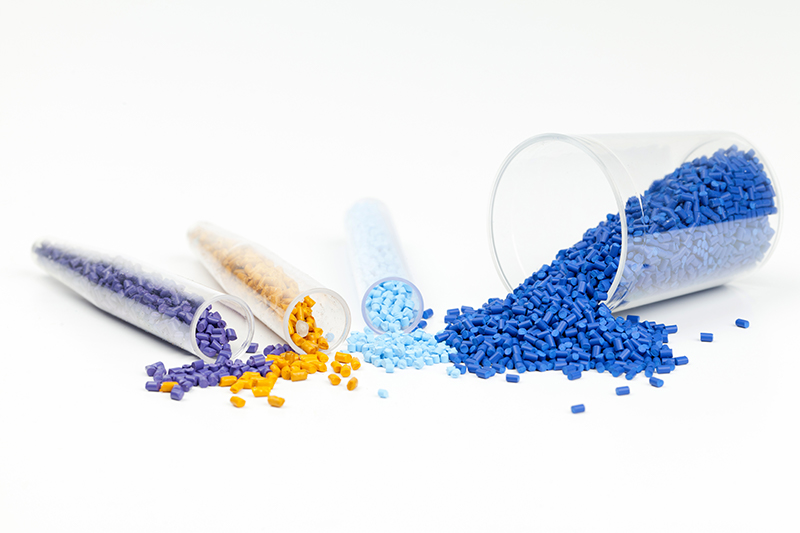 Dimensional stability

Geometric and centesimal dimensional tolerances

Mechanical resistance

Thermal resistance from -40 to 210 °C in air, up to 110 ° C in water and up to 100 °C in oil

Resistance to chemical and atmospheric agents (aging)

Resistance to hydrolysis / glycol

Low coefficient of friction and abrasion resistance (tribology)

Dispersion of creeping currents

Electromagnetic wave shielding (Faraday cage)
Weight reduction

Cost and lead-time reduction

Co-molding of inserts in metal, plastic, fabric

Bonding (plastic-plastic and plastic-metal compatibility)

Design constraints

Transparency

Food and non-toxicity

Flame behavior (self-extinguishing) UL94 from HB to 5VA

Compliance with sector regulations and related testing and approval tests.
WE ARE ABLE TO WORK WITH A LARGE VARIETY OF POLYMERS, FOCUSING ON THE MOST SOPHISTICATED.
TECNOSTAMP has the know-how, machinery and equipment suitable for processing a wide range of plastics, which include basic polymers, technopolymers and superpolymers.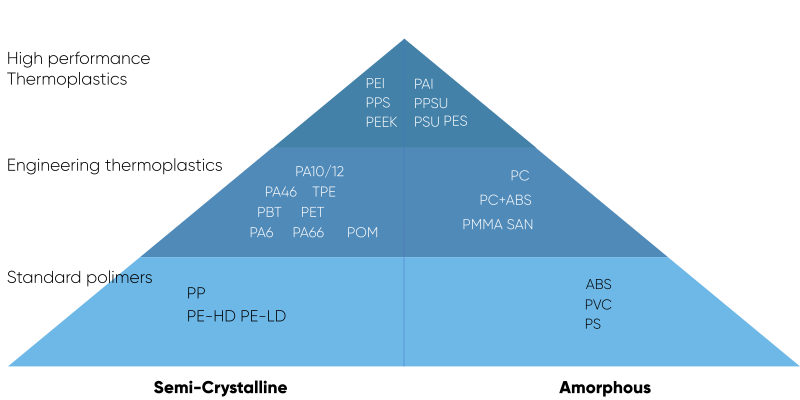 PP (Polypropylene)

PP PV (glass fiber reinforced)

PS (Polystyrene)

ABS (Acrylonitrile butadiene styrene)

POM (Acetal resin)

PE-HD and PE-LD (low and high density polyethyl)

PA6 (Nylon)

PA66

PA12

PA46
PA6 15-30%GF GS

TPE (Thermoplastic Elastomers)

TPU (Thermoplastic Polyurethanes)

SAN (acrylonitrile-styrene copolymer)

PBT (Polybutylene terephthalate)

PPS (Polyphenylene sulfide)

(Polycarbonate)

PC+ABS (Polycarbonate / Acrylonitrile-butadiene-styrene)

PEI (polyetherimide)

PET (polyethylene terephthalate)